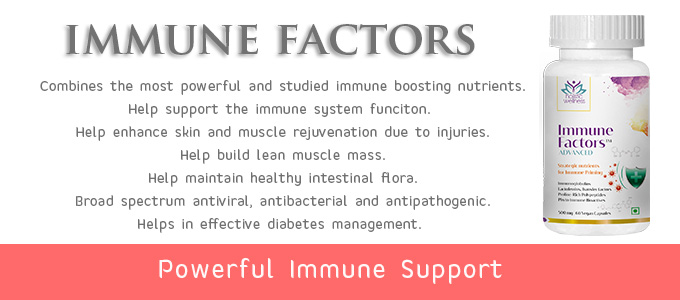 Immune Factors contains both immune and growth factors like Immunoglobulins, Lactoferrins, Transfer factors and Proline rich Polypeptides from Bovine Colostrum, a perfect blend of mushroom (Cordyceps, Reishi & Shitake) immune factors, probiotics (Lactobacilus acidophilus & Lactobacilus plantarum)and Phyto Immune Blend (Aloevera & Morinda Citrofolia) for optimum immune functions.
AIDS, Allergies, Alzheimer's, Anti-aging, Asthma, Anti-inflammatory, Antioxidant, Athletic performance, Autoimmune disease, Bacterial infections, Cancer defense, Diabetes, Heart disease, Leaky gut syndrome, Lupus, MS, RA, Sjogren's Syndrome, Skin health, Viral conditions, Wound healing.
Press Release:
" Immune factors in cow colostrum, when taken orally, are effective against disease-causing organisms in the intestinal tract"
Source: (Dr. R. McClead, et al., Pediatrics Research)
Healthy individuals naturally produce a number of immune-enhancing proteins, including antibodies, which provide protection against infections. These can be found throughout the body, but are found at the highest level in your digestive system, which has the greatest exposure to the outside world. This defense system performs the essential task of disabling and destroying harmful organisms before they can cause damage or illness in the body.
Need for Enhanced Resistance
Lack of sleep, unbalanced nutrition, disease, strenuous exercise, and exposure to germs can all increase the demand on the body's natural defenses. This stress and turmoil of daily life create the need for enhanced resistance.
More Downloadable Information :
( 01 ).Fast Facts ( 02 ).Scientific / Clinical Studies